https://www.youtube.com/watch?v=RQ6tn2fQwYQ
5 Tips on How to Choose the Right Badminton Shoe
For more video guides and tips, join our growing community on our BG Academy YouTube Channel. 
About every two to three months, I will make my pilgrimage to the badminton shop for shoes (Yes, many professional players go through almost a pair every month!). It can be daunting to from the sheer selection a shop can offer.
Fear not! I will be teaching you how to navigate the seas of fancy footwear to get the best bang for your buck.
Soon, you'll be sailing smoothly through the sea of shoes to finally get wear your feet would want. You wouldn't want to have to buy a new pair after getting the wrong one. I'll show you how to protect your feet, and protect your wallet.
How to Choose Badminton Shoes
Sole
Cushion
Size and fit
Material and design
Weight
1. Soles
People first look for different things when looking for life partners. Some look for personality, some go for beauty, and others perhaps look for a sense of humour.
But for badminton shoes, the very first thing you should look out for is the sole (although having a beautiful-looking design is very nice indeed!).
The sole determines the grip strength and how lasting a grip it will give. If you are like most players playing on wooden or rubber-floored courts, a gum rubber sole is what you need. Otherwise, any rubber sole will do.
Rubber soles are much harder than gum rubber, but they do not provide enough traction on rubber or wooden courts. Better shoes also have more ergonomic designs for better traction.
The latest-technology soles offer hexagonal moulds for superior traction.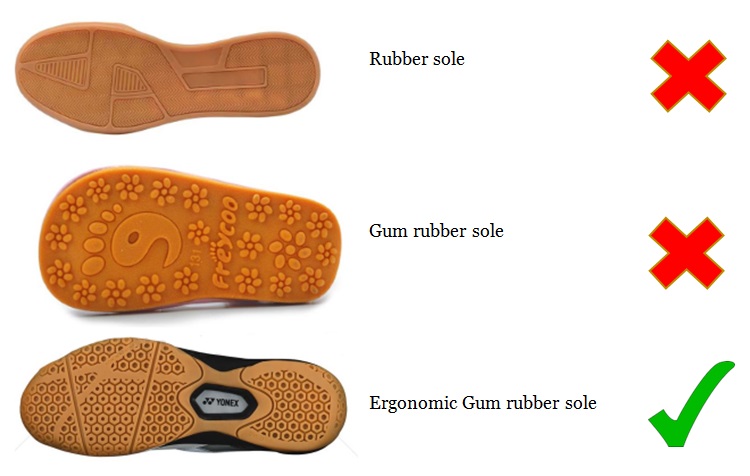 2. Cushioning 
Hitting a fast-incoming shuttlecock just out of your reach? You quickly make a heavy lunge forward, smacking the shuttlecock back to your opponent just in time. Your opponent returns the shot, and the shuttlecock approaches you again from a high angle. You immediately jump high and do a cool smash shot, sending the shuttlecock straight to the ground on your opponent's side. Applause erupts from the cheering spectators, and a point goes to you!
Doing all these is great, but they do place heavy stress on your knees. To protect your knees, you need a power cushion to absorb the impact. You'll need to change directions frequently too, and the cushioning at the opening of the shoe will prevent painful abrasions.
If you don't want injured knees and pain, then having good cushioning is vital.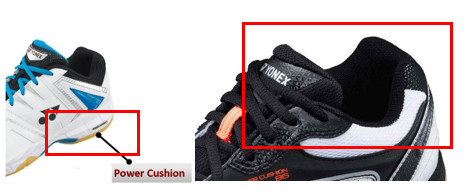 3. Size and Fit
If your shoes don't fit well, playing bare-footed is better. Really!
Like a glove in hand, badminton shoes have to fit very snugly because slight shifts of the shoes against your feet during play will cause unpleasant tears, sores and blisters. I cannot stress enough the importance of a good fit.
Always wear the shoe to check for size and fit. When testing shoes, tighten the laces as you would before playing.
The areas near the toes and heels should fit snugly and tightly to the shoe, especially the area at the toe to the top of the shoe. This area is often ignored, but excessive space here makes your feet blister-prone. Larger spaces mean larger movements of your toes within your shoes, increasing the chances of blisters.
Most shoppers only check for length and not width; the width of the shoe should be comfortable for you. The width varies in different models of shoes. Select one with a good fit for your foot that will not cause abrasions during side-steps or lateral movements.
4. Material and Design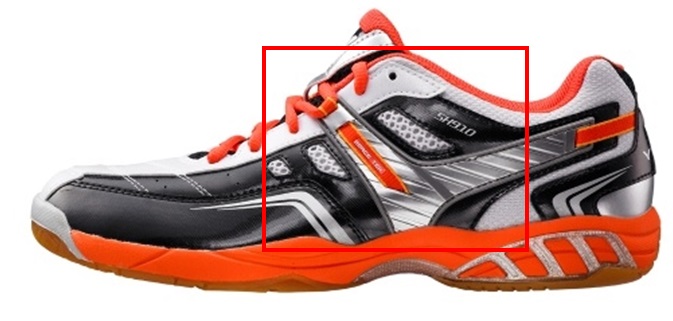 Badminton shoes made of a durable yet malleable material that moulds to the shape of your feet are preferred by most players. I will not restrict the exact design, but a good shoe should have reinforcements along the ankles for extra support and stability, and air vents along the sides for breathability.
5. Weight
The weight of a shoe is another factor, but it is one that I personally would not fret over too much.
Good shoes are light and durable at the same time. It usually depends on how much you're willing to invest for better performance and comfort too.
Brands that I personally recommend
I am not paid or sponsored for this section, but there are a few brands that I personally used that worked. If you watch professional badminton players frequently, you'll see the same brands over and over again as I have.
Yonex, Victor, Li-Ning. I don't have that many feet.
Links to their websites:
Li-Ning: https://shopbadmintononline.com/badminton-shoes-li-ning-c-4.html
Yonex: http://www.yonex.com/sports/badminton/products/badminton/footwear
Victor: http://www.victorsport.com/product/footwear
This is of course, not a comprehensive list, but I wouldn't recommend anything that I haven't seen work for myself or others when it comes to performance.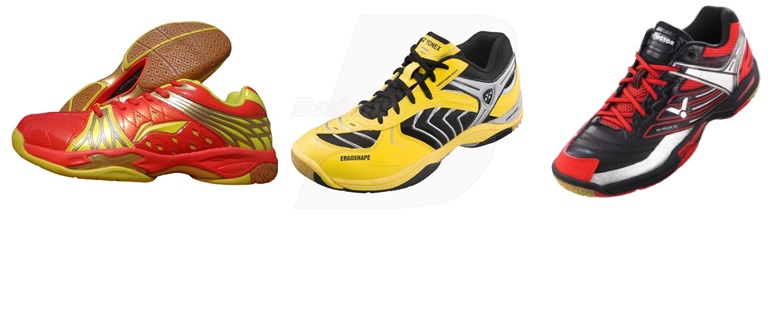 Badminton Shoe Pro
Now that you've gone through all the important factors for selecting badminton shoes – the sole, the cushion, size and fit, material and design, and the weight – you are now ready to pick the best shoe for peak performance.
Everyone's feet is different, so do spend more time trying on more pairs before you buy them (trying is free!). Lace them up nicely, and walk around the shop a little before making your choice. You can do it!
Citations:
Li-ning Shoes: http://www.khelmart.com/Cricket/items/Li-Ning-Titan-Limited-Champion-Red-and-Yellow-Badminton-Shoes.aspx
Yonex Shoes: http://www.badmintonalley.com/Yonex_Power_Cushion_SHB_92MX_2011_Badminton_Shoes_p/shoes-yonex-shb-92mx-ylw-2011.htm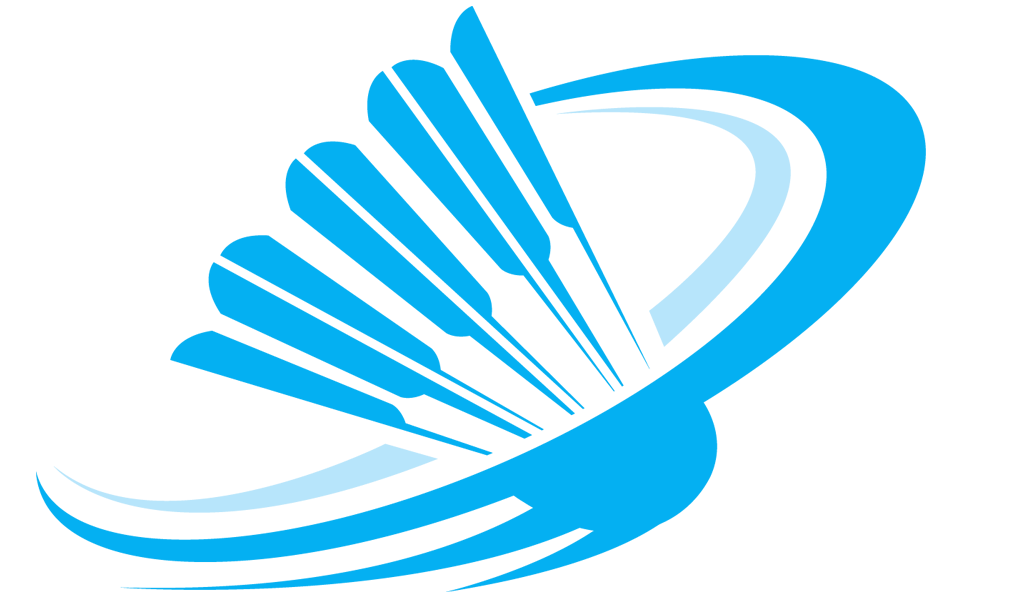 Return from 5 Essentials in Amazing Badminton Shoes to Home
Mailing Address:

BG Badminton Academy Singapore
409 Choa Chu Kang Avenue 3 #13-317 
Singapore 680409